Dodgeball - Thursday (Winter) (Archived)
Program Description
Dodgeball is Back! New, More Social Format & Location Near Bars!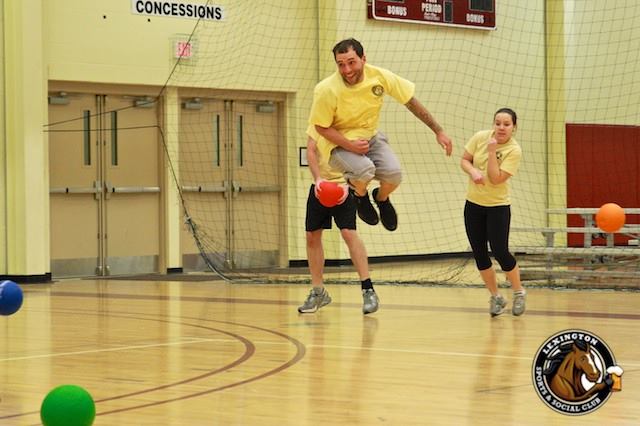 We're moving to Lexington Ice Center for classic indoor dodgeball, just like you remember from middle school. Dodgeball is co-ed, 10 vs. 10 and fast-paced. We play with 8.5-inch "no sting" rubber coated foam balls - enough to get some speed behind, but not enough to hurt when they hit. Game times at 7:30, 8:20, and 9:10 PM. Gym is able to accommodate 2 games simultaneously.
Format Information:
We had originally planned to do a modified format with shorter/more frequent games on smaller courts. However, since there are 6 teams this season, we've decided to go back to our traditional format on a full court for a more active running game.
This league features:
Sign up by yourself, with a group of friends or whole team
Co-ed, over-21 play
Official LexSSC t-shirt (your uniform for the season!)
7 games + playoff tournament for qualifying teams
Two referees for each game.
Socializing at the bar after the games
Program Details
Format:
Co-Rec
Official Rules:
Dodgeball Rules
Location:
Lexington - Lexington Ice Center
Registration Dates:

Now — Jan 4, '18 Regular

Jan 5, '18 — Feb 1, '18 Late

Max Teams:
12
Team Roster:
15 Players Minimum, at least 4 of each gender. No Maximum.
First Game Date:
Thursday, January 11, 2018
Last Game Date:
Thursday, March 1, 2018
Postseason Format:
Top 4 teams
Individual Price:

Regular

$49.00

Late

$59.00 (See Refund Policy)
Team Price:

Regular

$49.00 per person

Late

$59.00 per person (See Refund Policy)